Game Center is an online multiplayer social gaming network released by Apple.[3][4] It allows users to invite friends to play a game, start a multiplayer game through matchmaking, track their achievements, and compare their high scores on a leader board.[3] Game Center was originally announced on April 8, 2010, and became publicly available with the release of iOS 4 on September 8 of that year. With a major update to the service in October 2011, it is officially available for iOS devices capable of running iOS 4.2 or later. The service now comes standard with the current iOS.
On February 16, 2012 it was announced by Apple that Game Center would be integrated into the latest version of Mac OS X,
Mountain Lion
, set for a summer 2012 release.
[5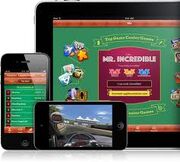 ]
Ad blocker interference detected!
Wikia is a free-to-use site that makes money from advertising. We have a modified experience for viewers using ad blockers

Wikia is not accessible if you've made further modifications. Remove the custom ad blocker rule(s) and the page will load as expected.